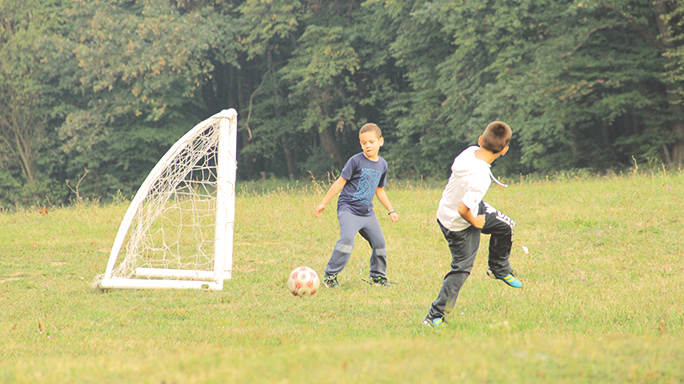 Sports
Fruška Gora offers many opportunities for outdoors sports and recreation. The numerous picnic areas usually have terrains for group sports, and the Fruška Gora transversal, over 160 km long with 32 checkpoints, offers a wide specter of possibilities for activities such as cycling, hiking, orienteering, and trekking.
Trekking
The mountain paths of Fruška Gora, meandering trough rare and diverse natural surroundings, and numerous camping areas offer many thrills to adventurists, and have great potential for trekking development. Although this is still a novelty here, the Mountain-Skiing Association of Vojvodina began a weekend racing pilot-project in 2012, in order to enhance the symbiosis between enjoying the outdoors and sports and recreation. Thus, the Vojvodina Trekking League was founded, and one of the competition locations is Fruška Gora. Trekking is a very fun discipline for all active people wishing to improve their stamina and enjoy several days of harmonious life in the wilderness, and the terrains of Fruška Gora are an excellent choice for such activities.
Orienteering

Orienteering is a fascinating discipline that could be done competitively and as recreation. It works well for all generations, which makes it ideal for families, and all you need to participate is a compass, a map of the terrain, and running gear. The goal is to reach a designated number of checkpoints on unknown terrain as quickly as possible, using nothing but a map and compass. Decision making using a map brings a dose of charm to the sport, often proving that there are no shortcuts in life. The slopes of Fruška Gora are ideal for practicing this fun activity, and many mountain lodges have orienteering tours in their offer.
Hiking
Mountain paths leading through enchanting deciduous forests and vast meadows, as well as by a variety of historical and cultural monuments, are a distinguishing feature of the Fruška Gora transversal, making it the perfect destination for hikers. Most of the paths have hiking trail markers, a white circle with a red heart in it, and they are charted down with GPS devices, and the trail files can be downloaded for free on the official pages of national parks and most mountain lodges. The "Fruškogorski Marathon" has been held traditionally since 1978, and it includes 17 trails for both professional mountaineers and hobbyists. Fruška gora has great potential in becoming a regular stop for free-climbers, as well. So far, the most alluring destination for this discipline is Orlovo bojište, a former quarry and one of the most beautiful vantage points of Fruška Gora, but mines such as Stari Rakovac, Kozje brdo, Ležimir, Perina cave and Paragovo deserve honorable mentions.
Cycling

Well defined trails within a gorgeous natural ambient make an excellent setting for all fans of mountain cycling. The undulating terrains of Fruška Gora, with their many ascents and slopes, demand constant pace regulation and a good technique from cyclists. The MTB Marathon is a prestigious event, a challenge in technique and the limits of physical endurance of all competitors. This trail is a favorite with all Serbian professional cyclists, and soon it might just become a member of the mountain-biking mainstream in Europe.